5 Fun Ways to see the Winelands
published on:
09 May 2018
When you're out in the winelands you want to be able to see and drink in the beautiful views surrounding you, not scan the road looking for the turn-off to the winery. And playing rock-paper-scissors to pick a designated driver for your outing gets old quickly, especially if you always lose. The good news is that there are so many options to have a fun and memorable stress free winelands visit.
Cape Town to Robertson with Ceres Rail Company
Experience the Robertson Wine Valley in style with a relaxing ride in a vintage steam train. Ceres Rail Company launched the 4 day/3 night trip from Cape Town to Robertson in 2018 with available dates from end of May to September to chug chug along some beautiful winelands scenery to the fun Robertson wine country. They've made it simple by teaming up with various accommodation establishments such as Jan Harmsgat historical country house and Zandvliet Wines.
For more information and various packages, click here.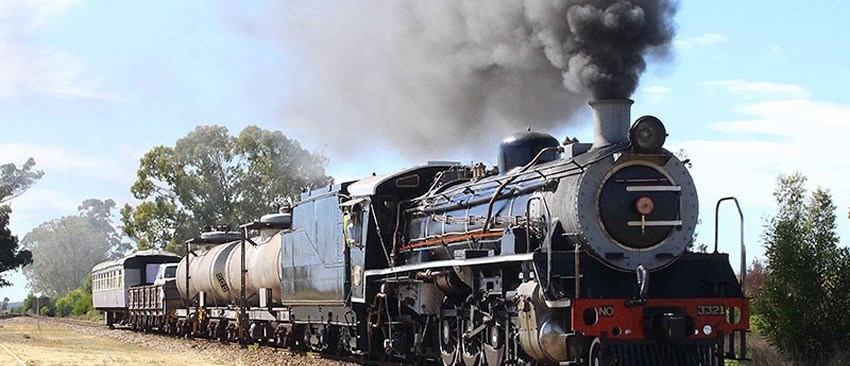 See the Cape Winelands on the Red Bus by City Sightseeing
Escape to the Cape's famous wine country on this full-day tour from Cape Town. Taste regional wines from two different wineries in the Franschhoek and Stellenbosch wine valleys, including both big-name and family-run estates. Learn about the winemaking process during guided tours of the vineyard and their wine cellars and enjoy lunch in the historic village of Franschhoek.
Your package will include wine tastings at 2 wine estates, a professional live guided tour by wine specialist guide, a cheese pairing, a cellar tour, free Wi-Fi on an air-conditioned coach and a photo stop at Blouberg.
For more information click here.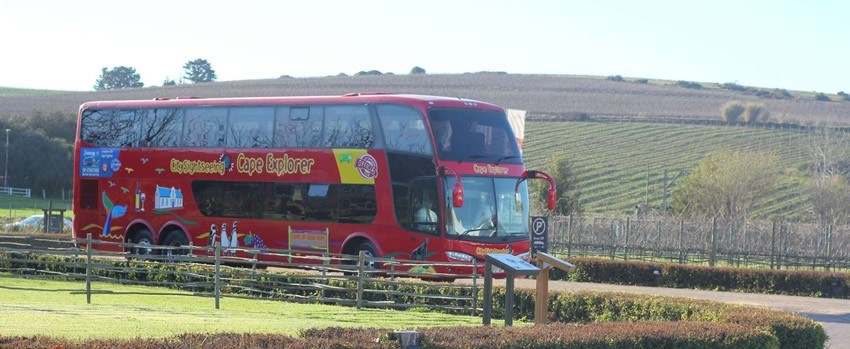 Hop-on Hop-off experience on the Franschhoek Wine Tram
The Franschhoek wine valley has always been a big attraction and the wine tram has added an element of fun to this glamorous side of the Cape winelands. Carefully planned routes make sure that travellers get to experience the great wines and cuisine the area is known for.
There are six tour options for travel giving travelers the opportunity to see their pick of 22 wine cellars and estates. It is a hop on hop off tour – making it an incredibly flexible and convenient way to discover the valley. At each stop, travelers can embark on any of the activities on offer at the selected destinations; from wine tasting to memorable dining experiences, and cellar tours or a walk around the estates.
For more information click here.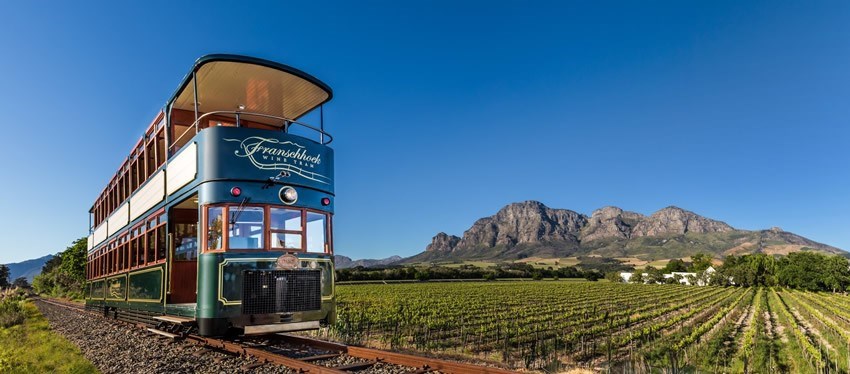 Wine Flies Wine Tours – Icons of SA: Stellenbosch to Hermanus
With a few unique tour options on offer, the Icons of SA tour by this fun-loving company (running from July until December) is a varied and memorable way to see and experience 2 of SA's wine regions. The tour itinerary which promises to include "whale, wine and wors" comprises three major stops and kicks off in Stellenbosch with a visit to Oom Samie Se Winkel and family-owned Middelvlei Wine Farm. From there you will be whisked to Grabouw for a pairing of boerewors and Everson's cider, followed by a biltong and red wine pairing. The tour is ended off In Hermanus with whale watching followed by tastings at a local micro brewery and a boutique wine estate. Sounds like a whole day of fun and adventure.
For more information click here.
Spier Sunset Tour on a Segway PT
Segway Tours and Spier Wine Farm have combined green technology, sustainability and fun to provide the Stellenbosch winelands experience of a lifetime – for the whole family!
Tour the vineyards on a Segway PT (Personal Transporter), the coolest two-wheeled way to see the Spier farm. This self-balancing electric vehicle will help you glide through the vineyards, past the Protea Garden and Biodynamic farming area where they will share some interesting facts. There is no better way to end off the day than taking in the splendour of this tranquil setting as you glide through the vineyards & watch the sun set on another perfect day.
The Spier Sunset Tours are only available until end of May
For more information click here.