Old Wines in New Bottles: Tasting Trends in 2019
published on:
07 January 2020
Graham Howe says benchmark tastings of older vintages of Cape wines was a highlight of wine trends in 2019 – in an era defined by the constant search for new styles and novelty.
The virtues of patience and maturity were demonstrated at a vertical tasting of Epicurean Wines at Aubergine restaurant in Cape Town in late 2019. A label founded by high-flying Gauteng financiers in 2001, their pursuit of a benchmark Cape Bordeaux-style red blend, the only wine in their portfolio, has become a hands-on passion and luxury lifestyle brand. The occasion was the launch of the new Epicurean, always held back for release for 7-8 years –"a wine aged the way it's meant to be – released when fully integrated, seamless, complex and made for longevity". What's the rush?
First released in 2003, Epicurean is typically a Merlot-led blend with Cabernet Sauvignon, Cabernet Franc and a dash of Malbec and Petit Verdot in some vintages – vinified at Rupert & Rothschild. The three partners – corporate heavyweights and wine lovers Sam Shilowa, Moss Ngoasheng and Mutle Mogase – are actively involved in the project. They had spent the week down in the winelands, sampling up to thirty barrels of components matured in oak for eighteen months, blending parcels of Merlot from long-term growers from Stellenbosch. Moss says the partners debate the consistency and target style of the big blend – looking for balance, elegance, aromatic complexity and longevity. They make a limited release of six thousand bottles retailing for R600 or so, listed at top restaurants.
The 2005 vintage lived up to the billing – fragrant, fresh, rich and lively with a purity of fruit and a thread of acidity. The Epicurean label pays tribute to the ancient Greek philosopher Epicurus – and carries one of his most famous quotes, "We should look for someone to eat and drink with before looking for something to eat and drink, for dining alone is leading the life of a lion or wolf". Epicurus was not an Epicurean in the sensualist sense. A radical thinker, he believed "It is impossible to live life wisely and well and justly without living a pleasant life"- of simplicity (the delights of a bowl of homegrown lentils), self-sufficiency in a commune, personal fulfillment and the wisdom of old age. Of his famous Athens Garden, he wrote, "This garden does not whet your appetite but quenches it."
Ralph, the sommelier at Aubergine, where back vintages of Epicurean are listed, says a wine label like that sells itself. "Everyone is in such a rush to get somewhere" he says, arguing that wine takes time – and we drink it all too soon in the hurry to get to the next vintage. Epicurus who believed that old age is the pinnacle of life and wisdom, would surely agree. The fine things in life take time to mature. While recently sharing with friends a magnificent magnum of Zonnebloem Shiraz 1981, bought at the 25th Nederburg Auction, I realized how wonderful an old Cape wine can be.
Another highlight in my further Epicurean adventures with old wines in 2019 took me back to 1959 on the sixtieth anniversary of the first commercial release of Pinotage at Lanzerac in Stellenbosch. The opening of one of four rare half- bottles of the 1959 vintage grown by PK Morkel at Bellevue Estate in Stellenbosch – released by SFW under the Lanzerac label in 1961 – was a memorable occasion in the life of a wine scribe. Lanzerac cellarmaster Wynand Lategan described the moment as "a journey into history" – while industry veteran Duimpie Bailey declared of the rich, vibrant wine, "One of the greatest attributes of Pinotage is its colour – and its longevity." The tasting of Lanzerac Pinotage included rare vintages from 1967, 1989, 1998 and 2008 (today's Pionier Pinotage).
Commenting on the elixir of youth – and the market demand for younger and younger wines, Wynand said many cellars would like to hold back vintages but have to release younger wines – a lament one hears at tastings all over the winelands. He says "We can't keep pace with demand for Pinotage today.Tourists from all over the world come here to hear and taste the story of Pinotage."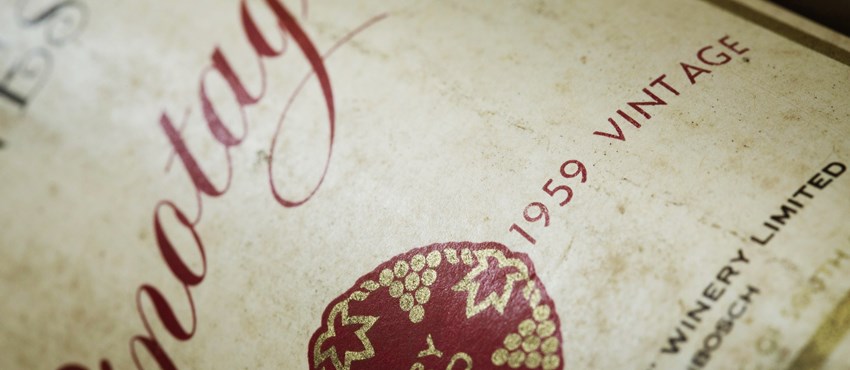 One of the many highlights of the eightieth anniversary celebrations at Delheim in October 2019 was the unveiling of a lost treasure trove of rare old wines found under the floorboards of the old manor house of the Sperling's family farm in the 1970s. Guests were treated to a taste of Hanepoot (made from muscat d'Alexandrie grapes) made circa 1942 which still tasted fresh and spirited – bottled in recycled beer and brandy bottles due to world war two glass shortages. We also tasted superb Delheim Gewurztraminer from 2003-2004, Spatzendreck Noble Late Harvest 1990, Edelspatz 1990 – and Pinotage, Chardonnay and Cabernet Sauvignon back to 1990. We tasted liquid history over the lunch of the year at long tables laid out in the 1944 wine cellar built by Italian POWs.
Looking around at Spatz Sperling's legacy, I was again reminded of Epicurus. Writing in the 3rd century BC, Epicurus wrote, "It is not the young man who should be considered fortunate but the old man who has lived well, because the young man in his prime wanders much by chance, vacillating in his belief – while the old man has docked in the harbour, having safeguarded his true happiness".
A vertical flight of older vintages at Kanonkop, one of the pioneers of Pinotage in the 1940s, was another highlight of the tasting circuit in 2019. Demonstrating the longevity and power of their wines, Abrie Beeslaar, cellarmaster of this benchmark red wine cellar since 2002, took media on a journey from current releases of the Kadette and Kanonkop reds back to the iconic Paul Sauer 1995 and Cabernet Sauvignon 1997. He commented, "At Kanonkop we like to age our red wines in the barrel for two years and in the bottle for two years. It takes ten years to develop a unique expression of Pinotage like our Black Label which goes beyond the variety. It's about site and structure."
The stand-out tastings of 2019 were about the longevity not only of Cape wines – but of the staying power of winemakers and family farms in Stellenbosch such as Delheim, Kanonkop, Middelvlei and Thelema. The centenary celebrations of the Momberg's iconic family farm, Middelvlei were another highlight of the 2019 tasting calendar – marked in inimitable, authentic style with a boere braai and tasting of rare old vintages in the cellar where chickens pecked for cracker crumbs around our feet. 2019 was set to be the year of Pinotage as we enjoyed a privileged tasting of Middelvlei's signature Pinotage over five decades from 1978 through 1989, 1994, 2011 and 2017 – as well as back vintages of Middelvlei's pioneering Cape blend of Pinotage and Merlot back to 1996 and Cabernet Sauvignon.
I'm reminded of the comments by Gyles Webb and Rudi Schultz at a tasting at Thelema in early 2019 – "Not many Cape wine farms can offer a 25 year-old vertical tasting of Cabernet Sauvignon. We make Cabernet with ageability. We don't want to change our style. Our wines were modern in the 1990s. The value of tasting older vintages – like the Cabernet Sauvignon 1995 – lies in showing the DNA of Thelema. Wine was made lean and acidic in those days, wine with great longevity. Thelema is a benchmark for a distinctive style of Cabernet Sauvignon with a unique sense of site and place."